Another Super Bowl has come and gone. I have to say I wasn't really invested in either team, but it was fun to watch and eat and be part of it. And Madonna's halftime performance was awesome, if you ask me :)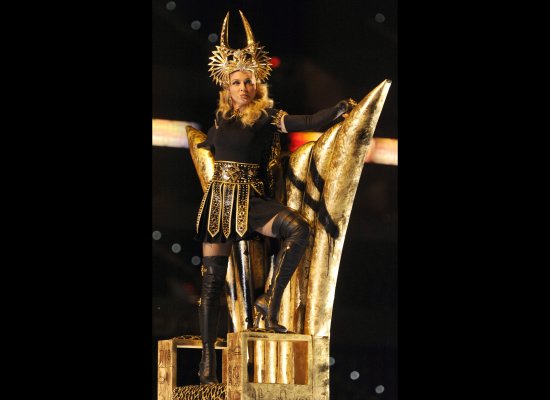 So I want to know what you thought of her show! And what you thought of the game (I don't understand football really well, but it did seem pretty exciting even to me :). Drop me a comment and tell me what you thought, and of course what you ate!
Our afternoon was pretty low key, but it was nice and we made sure there was plenty of food. Mostly standard stuff- a lot of chips and Diet Coke. But I did make this spin on a Mexican-style seven-layer dip, which was a hit. It's easy and tasty, and looks beautiful! And if I can make it look beautiful, anyone can, I promise. Food styling and presentation is a skill I lack (haha).
Layered Mediterranean Dip
1 recipe Cilantro-Pecan Pesto (below)
About 2 cups hummus (I used sun-dried tomato flavor, but use whatever flavor lights your fire :)
1 cup chopped cucumber
1 cup chopped red onion
1 cup chopped grape tomatoes or regular tomatoes
feta cheese
Using a spatula, spread pesto evenly on a serving platter. Spread hummus on top, and then sprinkle on a cucumber layer, a red onion layer, a tomato later, and a feta layer. Serve with chips.
Cilantro-Pecan Pesto
3 cups fresh cilantro leaves
4 cloves garlic, chopped
4 Tbsp olive oil, plus more
4 Tbsp chopped pecans
4 Tbsp pine nuts
1/2 shredded Parmesan cheese
In a food processor, process cilantro, garlic, and 4 Tbsp olive oil until you have a rough paste. Add pecans, pine nuts, and cheese and process until blended, stopping using a spatula to scrape down sides as needed. With the processor running, pour olive oil down chute in a slow and steady stream until pesto reaches desired consistency.
Have a lovely Sunday night!
Love,
Rosie